Great Falls is really fortunate to have a terrific ski area like Showdown, less than an hour away. The tree skiing there is amoung my favorite of the many areas that I have skied out west. They have a fantastic youth ski program that has gotten both my girls skiing balck diamond runs in a couple years with a minimum of tears.
Of course, the youth ski program also frees up some parent time. The King's Hill has has a number of great backcountry routes. On this day, I decided to ski Deadman's pass.
The trail starts right at the top of the pass on the west side of the highway, behind the forest service cabin. This route gets only light traffic.
The trail follows a forest roadm to the top of the pass. I often stop here, ski several runs on the steep shoulders then ski back down. However, if you have two cars you can continue across the ridge and ski a very nice slope down to Deadman Creek then out to your car on Highway 89 near forest road 837. Allow 4 hours for the full trip. I ski up to the pass and back in 2 hours with a couple quick short runs on top.
Early in the season, I ski up to the pass and back on metal-edged skinny skis. After big powder or later in the season,like this day, there is one exposured corner that becomes fairly technical and could result in sliding down a short chute into some trees; so I go with full alpine touring gear. There are several sidehills that offer fun powder in the trees so bring a helmet.
Man I live winter in Genuime Montana!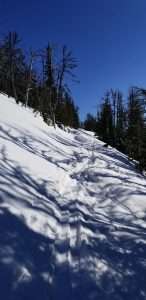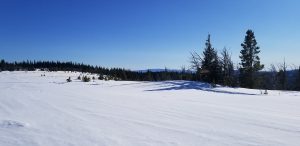 lo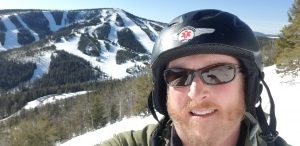 lo